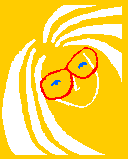 Visit this page's sponsors:
Save money on your phone bill at Best-Phone.com: compare many companies and plans.

Upgrade your PC, save money, and make shopping for memory easy, at MemoryEagle.com, A Crucial Technologies, Affiliate.

Web Osmide?
[EagleRidge Home] | [Resources] | [Sloan] | Web Osmide

From the desk of Crystal (Bliss) Sloan:
Recently a surprising number of searches at Ertin.com have been for the unfamiliar phrase "web osmide." In June 2003 the phrase ranked #7, and in July 2003 the phrase advanced to #2, just behind "web programming." We are still getting such searches in 2008.
I thought I'd write an article about "web osmide," to give the searchers something to find, but was unable to find any definition or references to this.
If anyone knows what "web osmide" is, or knows anything about this or the related phrases "digital osmide" or "electronic osmide," please email me, thanks.

--Bliss Sloan
[sloan@ertin.com]
Last updated: 1/31/2008
Copyright (c) 2003-2008 EagleRidge Technologies, Inc.